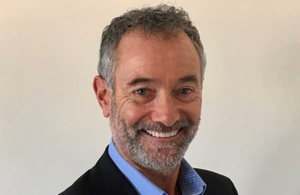 Hello! I'm Fraser Sampson, the new Surveillance Camera Commissioner (and Biometrics Commissioner too). I came into post on 1 March and with so much going on in both the world of surveillance and biometrics, I'm sure the next few weeks and months are going to be busy, but I think this is an exciting time and I'm looking forward to the road ahead.
What's my background?
I began working in the criminal justice sector over 40 years ago, I joined West Yorkshire Police on leaving school and later served with British Transport Police before becoming a solicitor specialising in policing law, conduct and governance.  I've written and edited several leading police law texts and must take the blame for the infamous Blackstone's Police Manuals used by OSPRE promotion exam candidates which I used to manage.
As national chair of the Association of Police and Crime Chief Executives, I proposed (and then drafted) the statutory oath of office for police and crime commissioners and was appointed CEO & Solicitor to the Police and Crime Commissioner for West Yorkshire in 2012 where I was involved in establishing the National Police Air Service, later being seconded as CEO to the Police, Fire & Crime Commissioner in North Yorkshire.
I'm an Honorary Professor and member of the Advisory Board at the Centre for Excellence in Terrorism, Resilience, Intelligence & Organised Crime Research at Sheffield Hallam University from where I have a PhD in digital accountability in law enforcement. I have worked on several international research projects involving technology within policing, including the development of principles for the accountable use of AI by the police.  I'm also a Senior Fellow of the Weinstein International Foundation for dispute resolution in the United States and a CEDR qualified mediator.
What are my priorities as Surveillance Camera Commissioner?
Having 'met' with Tony, my predecessor, in week one I'm now very keen to meet the leading experts that have worked so well with him on the National Surveillance Camera Strategy and get an idea of what's been going on and where we can take this work in the future. I know the strategy and the people who lead it have produced some fantastic results since its inception in 2017 and I really want to keep that momentum going. I'm going to be reaching out to all the strand leads over the coming weeks to start those conversations as soon as possible.
I'm looking forward to continuing the relationship with the ANPR Independent Advisory Group, chaired by my predecessor on behalf of Chief Constable Charlie Hall, the NPCC lead for ANPR. The group was initially set up to offer independent challenge and guidance, as well as comment on matters relating to privacy, legitimacy, transparency and the proportionate use of ANPR by police, law enforcement agencies and other non-statutory ANPR users.
I also intend to continue the third-party certification scheme. It's seen as best practice and is the 'gold standard' regarding the operation of surveillance camera systems. It enables organisations to demonstrate to their communities that they use their surveillance camera systems transparently, effectively and proportionately.
Then there's the Secure by Default self-certification scheme launched in 2019 and the two new schemes for service providers and monitoring centres, originally due to be launched in 2020 but sadly postponed due to the COVID-19 pandemic. Hopefully there will be an opportunity to launch those schemes later this year and I'm very keen to be a part of that.
And of course, there's the long-awaited review of the Surveillance Camera Code of Practice published in 2013. Following the Bridges judgment on the proper and accountable use of facial recognition technology, it's now more important than ever to produce a Code that's fit for purpose and is designed to stay up to date with the fast-paced evolution of surveillance camera technology. I'm eager to work with the Home Office to provide a robust regulatory framework which enables the proportionate and accountable use of overt surveillance cameras by relevant authorities.
How does this role fit with the role of Biometrics Commissioner?
The roles of Biometrics Commissioner and Surveillance Camera Commissioner were both created under the Protection of Freedoms Act 2012 and involve working closely with the police to promote compliance with the rules on the legitimate, proportionate and accountable use of DNA, fingerprints and surveillance cameras respectively.
A decision was made to appoint a single person to both roles because of the confluence of existing and emerging regulatory issues around police use of automated facial recognition, a type of surveillance camera technology with biometrics capabilities.
Our team are working very closely together across the two offices to establish a cohesive approach and support me in these distinct but overlapping roles for the future.